Experience uniquely personal navigation from the elegantly slim nüvi 3790T. It features a multi-touch glass display, nüRoute technology with trafficTrends and myTrends, voice-activated navigation, and other useful features.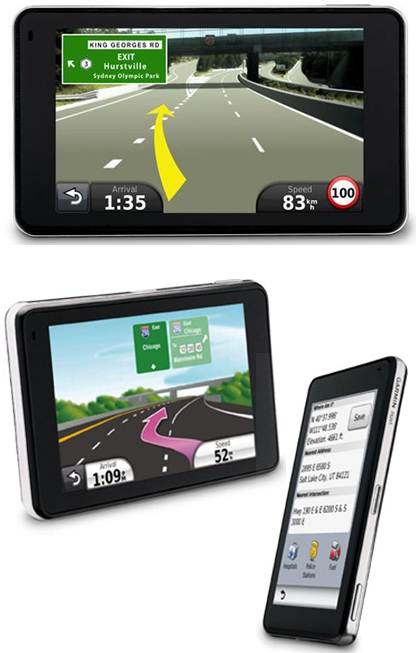 Get Turn-by-Turn Directions. See Buildings and Terrain in 3-D.
nüvi 3790T has an intuitive interface that greets you with two simple questions: "Where To?" and "View Map." Touch the color screen to easily look up addresses and services and get voice-prompted, turn-by-turn directions that speak street names to your destination It comes preloaded with detailed City Navigator NT street maps for the U.S, Canada and Mexico with nearly 6 million points of interest (POIs) such as stores, restaurants, hotels, entertainment venues, gas stations, ATMs and more, and speed limits for most major roads. With 3-D Building and Terrain view, youll see representations of prominent buildings in many cities and map contours at low zoom levels, giving you a realistic perspective of the terrain.Go Beyond Navigation
Also offered on nüvi 3790T are standard nüvi features that go beyond navigation. For example, ecoRoute — a green feature that calculates a more fuel-efficient route, tracks fuel usage and more. The 3790T includes many travel tools including JPEG picture viewer, world travel clock with time zones, currency converter, measurement converter, calculator and more. With photo navigation, you can download pictures from Garmin Connect Photos and navigate to them. With its "Where Am I?" emergency locator, you always know your location. Simply tap the screen to get your exact latitude and longitude coordinates, the nearest address and intersection, and the closest hospitals, police stations and fuel stations. The 3790T features Garmin Lock, an anti-theft feature, and is compatible with our free Garmin Garage where you can download custom voices and vehicles. Enhance your travel experience with optional plug-in microSD cards.

Physical & Performance:
Unit dimensions, WxHxD: 4.8″W x 2.9″H x .35″D (12.2 x 7.5 x .89 cm)
Display size, WxH: 3.81″W x 2.25″H (9.7 x 5.7 cm); 4.3″ diag (10.9 cm)
Display resolution, WxH: 800 x 480 pixels
Display type: glass, dual-orietation, WVGA color TFT with white backlight
Weight: 4 ounces (113.4 g)
Battery: rechargeable lithium-ion
Battery life: up to 4 hours
Waterproof: no
High-sensitivity receiver: Yes
Maps & Memory:
Basemap: Yes
Preloaded street maps: Yes
Ability to add maps: Yes
Built-in memory: internal solid state
Accepts data cards: microSD card (not included)
Waypoints/favorites/locations: 1000
Routes: 100
General
Product Type GPS receiver
Width 4.8 in
Depth 0.4 in
Height 3 in
Weight 4 oz
GPS System
Recommended Use Automotive
Connectivity USB, Bluetooth
Voice Navigation instructions, street name announcement
Antenna Built-in
Features ecoRoute, speed limit warning, Garmin Lock, photo viewer, Garmin Garage, Garmin Locate, nüRoute Technology with trafficTrends, nüRoute Technology with myTrends, photo navigation
Supported Memory Cards SD Memory Card
Maps Included Canada, USA, Mexico
Software Included MapSource City Navigator North America NT
Navigation
Waypoints 1000
Routes 100
Built-in Display
Type TFT – widescreen
Resolution 800 x 480
Diagonal Size 4.3″
Display Width 3.7 in
Display Height 2.2 in
Display Illumination Yes
Color Support Color
Features Touch screen, anti-glare, multi-touch
Connections
Connector Type USB
Battery
Battery Enclosure Type Integrated
Technology Lithium ion
Run Time (Up To) 4 hour(s)
Miscellaneous
Included Accessories USB cable, vehicle mount, dashboard disc, suction cup mount
[cj_show_items keywords="+Garmin +(3790T)" sort_by="price" records_per_page="20″
advertiser_ids="1475854″]