Digislide STRA-R-01 00 800 x 600 150 Lumens DLP Gaming Projector 1000:1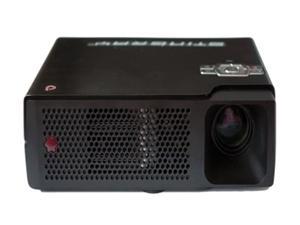 Learn more about the Digislide STRA-R-01 00
Model
Brand
Digislide
Model
STRA-R-01 00
Cabinet Color
Black
Type
DLP
Display
Brightness
150 Lumens
Native Resolution
800 x 600
Aspect Ratio
4:3 / 16:9
Contrast Ratio
1000:1
Display Size
12″ – 108″
Lamp
Light Source: LED
Lamps & Accessories
Lamp Life
30,000 hrs
Connectivity
Input Video Compatibility
Analog RGB, Composite
Input Video Connectors
CVBS, 15-Pin D-Sub
Spec
Users Controls
Remote Control
Built-in Speakers
2 x 1.5W
Features
Features
A great companion for your PlayStation console
Great for Gamers
Light weight, compact – ultra portable projector
Worry free – no fragile, expensive lamp to replace!
Compatible with computers, PMPs, gamesconsoles, SD cards
Plug and Play! Pack and Go! – no warm up/cooldown required
Equally suitable for home theatre or office use
Brilliant for Executive and Sales Presentations
Spec
Compatibility
PC Compatibility: VGA, SVGA, XGA, SXGA
Video Compatibility: NTSC, PAL, SECAM, 565P, 576P, 576i, 480P, 480i
Power Supply
100 – 240 VAC, 50/60Hz
Power Consumption
90W (STD)
Dimensions
Package: 11.75″ x 8.75″ x 4.25″ (L x W x H)
Weight
Package: 4.20 lbs.
[cj_show_items keywords="+Digislide +(projector)" sort_by="price" records_per_page="20″
advertiser_ids="1807847″]